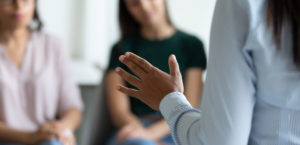 Insights
Amber's internship experience at FCG Sweden
Good Governance and Civil Society Intern Spring 2022
My name is Amber Bosma, I am currently studying my master's degree in International Administration and Global Governance at the University of Gothenburg. As part of my degree, I have joined FCG Sweden for an internship in the Good Governance and Civil Society team during Spring 2022.
Looking back on these past 5 months I am very grateful for what my experience at FCG Sweden has taught me. I was already certain about my interest and passion for international development, but I came to FCG with the objective to find out whether international development consulting is a career path that suits me. I have spoken to many of my fellow colleagues who all have inspiring career path histories and very interesting and diverse perspectives on development cooperation work. This has given me insights into how international development cooperation works in practice, and what it means to be a project manager in large EU- and Sida funded international development projects.
One of my favourite things has been to dive deeper into the context of my department's work, learning about how important good governance practices and the empowerment of civil society actors are for international development. I spent a big part of my time at FCG Sweden working on a capacity building program for Somali civil society organisations through which I could experience and learn about the essential role civil society actors play: civil society actors really are the driving force that hold governmental actors accountable for their (in)actions and have the power to exert significant influence on policies through advocacy regarding fundamental human rights.
Thank you, my colleagues. This internship has given me very valuable insights into how development cooperation works and my time at FCG Sweden has fueled my passion for development cooperation even more!
Amber Bosma was an intern at FCG Sweden´s Good Governance department in Spring 2022. The internship was part of her MSc. International Administration in Global Governance at the University of Gothenburg.